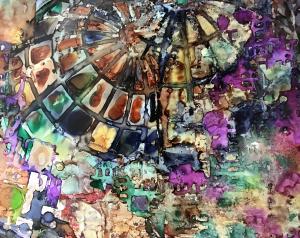 Local artists, Deborah Kline and Tommy McDonell are the featured artists for May at the Campbell House Galleries.

"Life's Layers" opens Friday, May 5, with a reception to meet the artists from 6 to 8 p.m. The reception is hosted by feature artists and is free and open to the public.

Pinehurst artist Tommy McDonell grew up outside of Detroit, Mich., and was always fascinated by art. Teachers, however, were not fascinated by her work. She drew and painted spontaneously. More than 30 years later, she saw an ad in New York City for a watercolor class and took it. She was hooked.

"I see my paintings as a part of my life," says McDonell. "A piece of my childhood is recalled in a flower's color, a tree, or a college memory of Italy in the shape of a Ravenna arch. To build a story, I may use stencils, perhaps a piece of tissue paper from a museum gift store, or colors lodged somewhere in memory of a Renaissance church window."

She believes...